| | | |
| --- | --- | --- |
| | Bond With Your Horse | |
About Us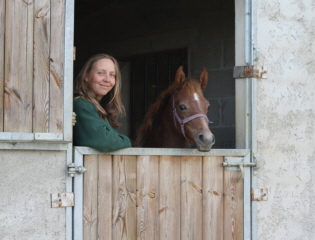 Jo Bond is a Monty Roberts Certified Instructor and an International Endurance Rider

"I have adored horses all my life and was one of those little girls begging her dad for a pony. After wearing him down over many years my first pony was a 14.2h welsh x arab chestnut mare... This was possibly not the best first pony for a 13 year old, 4ft 11 kid as she was certainly a character and had no brakes at all!

"Over the years we developed a great bond together...she was my best friend in the world and we had fun at the local shows doing some jumping. We used to hack there which took us 2 hours, do 2 or 3 classes and then hack home again. It is amazing what our horses do for us.

"However, I so wish that I knew then what I know now. I'm sure our relationship could have been fantastic and I know I made so many mistakes with her.

"At Oxford University I rode for the squad doing combined dressage and show jumping competitions. I passed my BHS Stage 1 while at University. I then moved to London and worked in Finance, riding horses whenever I could escape from the City. However I always felt that I was missing something when working with horses and that they had a much better understanding of me than I had of them. Then I saw a Monty Roberts demonstration and was convinced that that was the way forward. I then attended as many demos as I could, as well as reading all the books and watching all the DVDs available.

"I moved to France in early 2004 and bought a 3 year old, grey, Arab stallion. He proved to be quite a handful and so I enrolled on Kelly Mark's training courses in the UK that teach a combination of Monty and Kelly's techniques. These techniques completely transformed the relationship I have with Sanadik. Click here to read more about Sana. I then couldn't wait to carry on to undertake all of the training in these wonderful techniques.

"We are now succesfully competing in endurance competitions. We successfully completed our first International CEI** ride in 2010.

"In January 2008 I was confirmed by Kelly Marks as a Recommended Associate of Intelligent Horsemanship.
"On 5 March 2010 I became a Monty Roberts Certified Instructor, after succesfully completing the Advanced exams and a 3 month Internship at the Monty Roberts International Learning Centre in California.